24/7
EMERGENCY
SERVICE
203.
509.0903
PayPal Only Accepted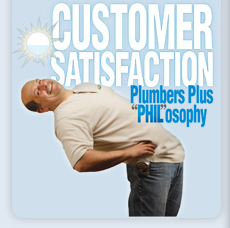 Why PLUMBERS PLUS
is different:
our 'we bend over backwards for the customer'
"Phil"osophy:
• PLUMBERS PLUS, LLC is the ONLY area plumber who doesn't charge YOU to come out and visit you on your initial consult or visit
• In nearly all instances-the person you talk with on the phone is "LIVE" and not an answering machine
• Your service call will be scheduled within a two-hour window-not a day-between 8 a.m. and 4 p.m.
• Your plumbing problem will be solved to your satisfaction ... or we'll come back and do it again absolutely FREE

Property Managers & Building Owners Love Our Service!
Let PLUMBERS PLUS help you with the juggling act of being a property manager by being the reliable, quick-responding, fix-it-right-the-first-time plumber for your apartment or condominium complex, shopping center, medical office building or HOA. We've been working with property management companies and homeowners associations for years and years, and many have designated us as their exclusive vendor-recommending us to tenants and property owners. Our hands-on experience and knowledge of the sometimes-unique plumbing scenarios involved means we can diagnose and fix problems faster and more cost-effectively.
PLUMBERS PLUS is "Easy to do business with"
We are able to work with you on a regular 30 day billing cycle for service calls. Detailed documentation of all work is provided. We understand the need to keep you informed at all times, so that you have the answers for your residents.
24-Hour emergency service
Your emergency is OUR emergency! We know YOU need us ... when YOU need us. So, we always keep our plumbers on-call 24/7, 365 days a year, AND even on holidays. Call 860.945.0282 and we'll promptly dispatch a highly qualified plumber to your location. Our after-hours messaging system and quick response from our staff will give you peace of mind. Indeed, NO overtime rates for "scheduled service"
Saturday calls
We know many tenants are not home during the week, so we offer Saturday service too. And at the same affordable rates as our weekday service. Very few plumbers offer regular rates on Saturdays, but at PLUMBERS PLUS, we know YOU have a busy schedule. We schedule service times at the convenience of our customers, if you need us to contact the residents for scheduling and arrangements, no problem! Sorry, emergency services are an exception.
The fastest, most reliable service
We know that speed is an important issue for our clients with sewer backups and water leaks. That's why we have radio dispatched service trucks available to serve you faster. We show up on time, with a qualified plumber and get the job done right. We leave the premises as clean, or cleaner, than when we arrive too.
Bonded & insured contractor
Suffice it to say, PLUMBERS PLUS is a bonded and is a fully insured contractor licensed in the State of Connecticut. Our Contractors License numbers are FRP.0010174-F1 • HTG.0303474-S1 • PLM.0203774-P1 • HIC.0553849. Don't jeopardize your investment by hiring an unlicensed and potentially uninsured plumber to work on your home, office or investment property.
We can be trusted with access keys and gate codes. All employees of PLUMBERS PLUS conduct themselves in a professional manner and focus on helping our customers resolve their plumbing issues. We screen and do background checks on all of our plumbers as well.
Plumbers, NOT salesmen
Unlike many plumbing companies today, we do not pay our plumbers on commission. We invoice in the most fair manner possible ... an hourly rate. We do not incentivize our field service personnel to needlessly upsell or upgrade you.
We are the trusted plumber for several homeowner associations in our area. Our PLUMBERS PLUS name is crucial to our survival in today's business climate. We have a stellar reputation because of our dedication to excellent service, fair pricing, and truly helpful staff.

It looks like PLUMBERS PLUS has created the right solution
for YOU and your budget.
Are you ready to move forward now?
860.

793.6928


info@plumbersplus.net
Take Advantage of
Government Rebates

FINANCING AVAILABLE
CALL FOR DETAILS