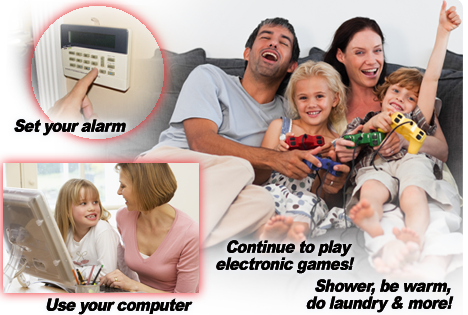 Be safe &
comfortable
during power
outages
YOUR SOLUTION:
a "smart" Honeywell
Automatic Standby
Generator, you
will always have
electricity!
5 YEAR WARRANTY!
A propane or natural gas "whole house" standby generator
means you or a loved one will never have to fuss with that
messy, smelly, dangerous gas guzzling portable generator again ...
Power outages bring with it a lot of issues ... there's NO HEAT or air conditioning, the loss of expensive food in the fridge, your sump pump ceases and the basement floods, no lights, computer or TV, you can't charge cell phones ... And what if you aren't there when it happens? There's the possibility of frozen pipes in the winter ... or mold when the air conditioning goes out in the summer.
Sure, you think you have the problem solved with a portable generator, but you risk your safety by pouring gas into a hot motor in undesirable weather conditions!
With a Plumbers Plus Honeywell-GENERAC automatic standby generator, we reduce all of those inconveniences by providing peace of mind during a power outage. It automatically protects what matters to you most, while giving you all of the conveniences you need.
YOU can almost always have propane delivered or natural gas
in home, but finding an open gas station ... that's another issue
Most propane suppliers have back up power to extract propane from their tanks. As long as the roadways are clear, your supplier can continue to bring propane for your Honeywell backup generator especially when you need it most.
If your home or business has existing natural gas lines, you NEVER have to worry about fuel supply to power your "whole house" generator. You have a constant flow of natural gas to keep your Honeywell automatic generator running as long as you need it.
You will NEVER have to drive around looking for an open gas station—or worse yet, wait in line at a gas station for an hour ... ONLY to find out that they ran out of gas.

Complete Automatic Standby Home Backup Generator System
Within 30 seconds of sensing utility power loss, your Plumbers Plus Honeywell-GENERAC automatic standby generator instantly starts supplying power to your home or small business. When the return of utility power is sensed, your home backup generator automatically shuts down and returns to standby mode—leaving your home or small business ready for the next power outage.
Your Plumbers Plus Honeywell home backup generator runs on your home or business's existing natural gas or propane (LP) fuel supply—your generator will run as long as necessary ... no more running out to your portable generator during a storm to fill up on fuel.
Have peace of mind knowing that your Plumbers Plus Honeywell backup generator is running smoothly with our remote monitoring system—standard on every 10kw, 15kw or 20kw model. Check your generator's status, set up operation parameters and receive up-to-date maintenance information from the comfort of your home.
Powered by a Generac OHVI® engine—the only engine specifically designed for use in generators, our Honeywell models are fully equipped with sound reducing, foam panels that reduce engine noise levels for additional comfort while the unit is running ... it's one of the quietest units available. Honeywell's patented WhisperCheck™ runs weekly self-tests on your unit ensuring that your generator will be ready when a power outage strikes ... this self-test mode is even quieter than normal operation. Your Plumbers Plus Honeywell automatic standby generator is encased in a standard aluminum enclosure with a hinged key locking roof panel for safety and security. The enclosure is coated with a RhinoCoat™ finish ... providing superior corrosion resistance, a necessity especially in coastal regions. Your enclosure sits on a base fascia, composite mounting pad continuing to provide safety through unit stability for you and your loved ones.
Your Plumbers Plus Honeywell backup generator system is complete with a Honeywell Sync Transfer Switch™. A Sync™ controller provides automatic transfer of power and total system compatibility … PLUS a programmable seven-day exerciser to prevent oil seal drying and damage between power outages. Your entire Honeywell air-cooled automatic standby generator system is backed by a 5 year limited warranty.
FEATURES
BENEFITS

• Read complete warranty details here

---

• Remote monitoring

• Observe operation status from the comfort of your home

---

• Generac OHVI® Engine

• The only engine designed for generator use with automated internal system checks

---

• Honeywell Sync® Transfer Switch with WhisperCheck™ self-test mode

• Provides automatic transfer of power and total system compatibility plus programmable seven day exerciser to prevent oil seal drying and damage between power outages

---

• Standard aluminum enclosure with a Rhino- Coat™ finish

• Unit enclosure has hinged, key locking roof panel for safety and security ... finish provides superior corrosion resistance, a necessity in coastal regions

---

• Base fascia, composite mounting pad

• Promotes unit stability and security for easy installation

---

• GFCI outlet

• Constantly monitors the amount of electrical current flowing through the circuit ... even if there is the slightest deviation in the amount of current changes will trip the internal circuit and cuts off electricity to the outlet.

---

• External status indicator lights

• Easily check the status of your system without having to open the secure enclosure

---

• Foam panels within enclosed unit

• Provides quiet operation
Why should you choose Plumbers Plus?
As an authorized Honeywell distributor and an HVAC contractor, we consistently work with natural gas and propane installations such as gas logs, furnaces & boilers. This expertise gives Plumbers Plus a distinct advantage over electrical contractors. Plumbers Plus is a bonded and fully insured contractor licensed in the State of Connecticut. We hold the highest licenses "1-class" that can be held. Our Contractors License numbers are FRP.0010174-F1 • HTG.0303474-S1 • PLM.0203774-P1 • HIC.0553849. This means we can perform all the necessary assignments you need! Don't jeopardize your investment by hiring an unlicensed and potentially uninsured contractor to work on your home or business.
All employees of Plumbers Plus conduct themselves in a professional manner and focus on helping our customers resolve their plumbing, HVAC and standby generator issues. Our service technicians use state-of-the-art technology to diagnose and repair existing problems and always use the finest new equipment for installations. We screen and do background checks on all of our plumbers as well.
At Plumbers Plus we offer a 24-hour emergency service ... your emergency is OUR emergency! We know YOU need us, when YOU need us. We keep our plumbers on-call 24/7, 365 days a year AND even on holidays. Call 860.793.6928 and we'll promptly dispatch a highly qualified plumber to your home or business. Our after-hours messaging system and quick response from our staff will give you peace of mind ... NO overtime rates for "scheduled service."
100% Satisfaction Guarantee:
We guarantee that the product(s) that we have installed will perform as the manufacturers' have stated. If in the first year, the product does not perform to your satisfaction, we will remove it and offer you options, according to the manufacturers warranties. Labor, however, is not covered by a manufacturers' warranty/guarantee.
The Plumbers Plus difference
Our "Phil"osophy has always been to treat our customers like our "friend," rather than a paycheck ... YOUR emergency, is OUR emergency. Our team at Plumbers Plus is always looking for ways to meet or exceed our customers' needs; it is our desire to create lifelong relationships—so YOU can count on us when YOU need us. Continuing education is a core discipline in our organization. Our 'we bend over backwards for the customer' "Phil"osophy:
Plumbers Plus, LLC is the ONLY area plumber who doesn't charge you to come out and visit you on your initial consult or visit
In nearly all instances, the person you talk with on the phone is "LIVE" and not an answering machine
Your service call will be scheduled within a two-hour window
Your plumbing, HVAC or standby back up generator problem will be solved to your satisfaction ... or we'll come back and do it again, absolutely FREE
We understand that many customers are not home during the week, so we offer Saturday services too AND at the same affordable rates as our weekday services. Very few plumbers offer regular rates on Saturdays, but at Plumbers Plus, we know you have a busy schedule and schedule service times at your convenience.
Unlike many plumbing companies, we do not pay our plumbers commission—we are plumbers, NOT salesmen. We invoice in the most fair manner possible ... an hourly rate. We do not incentivize our field service personnel to needlessly upsell or upgrade you. Our Plumbers Plus name is crucial to our survival in today's business climate. We have an incredible reputation because of our dedication to excellent service, fair pricing, and truly helpful staff.
Incredible financing opportunities available
CALL NOW FOR DETAILS: 860.793.6928

It looks like PLUMBERS PLUS has created the right solution
for YOU and your budget.
Are you ready to move forward now?
860.

793.6928


info@plumbersplus.net
Take Advantage of
Government Rebates

FINANCING AVAILABLE
CALL FOR DETAILS